wb_twilightThis verified Fundraiser is in Urgent need of Funds.
Jiyenge Charges 0% Fees to All the Causes, and it's Free for All.
Liver Failure Is Threatening To Take My Little Son Reyansh Away
₹ 983,719
raised of ₹ 2,000,000 goal
49%
Every Social media share can bring ₹ 5,000
For International Transaction
Pr
Created by
Pramodh kumar
Verified
Phone verified
Email verified
Identity Verified
---
About the Fundraiser
I never imagined that I'll have to see my child in this condition one day: his entire body covered in tubes, lost in a world of pain. A shiver runs down my spine when I think how quickly his condition is deteriorating.
This nightmare started when he got a fever and started vomiting. We took him to the hospital but the fever refused to subside. Later, the doctors recommended a few tests whose results revealed this terrible condition. My child had recently started going to a playgroup. He would beam at me and recite rhymes and now, he hasn't spoken to me for days! My only aim now is to make him healthy again.
The doctors at the Rainbow Children's Hospital told me that the only way to save my Reyansh is an urgent liver transplant. I was just getting my hopes high when the second part of this news was informed: the cost of this transplant is 20 lakhs.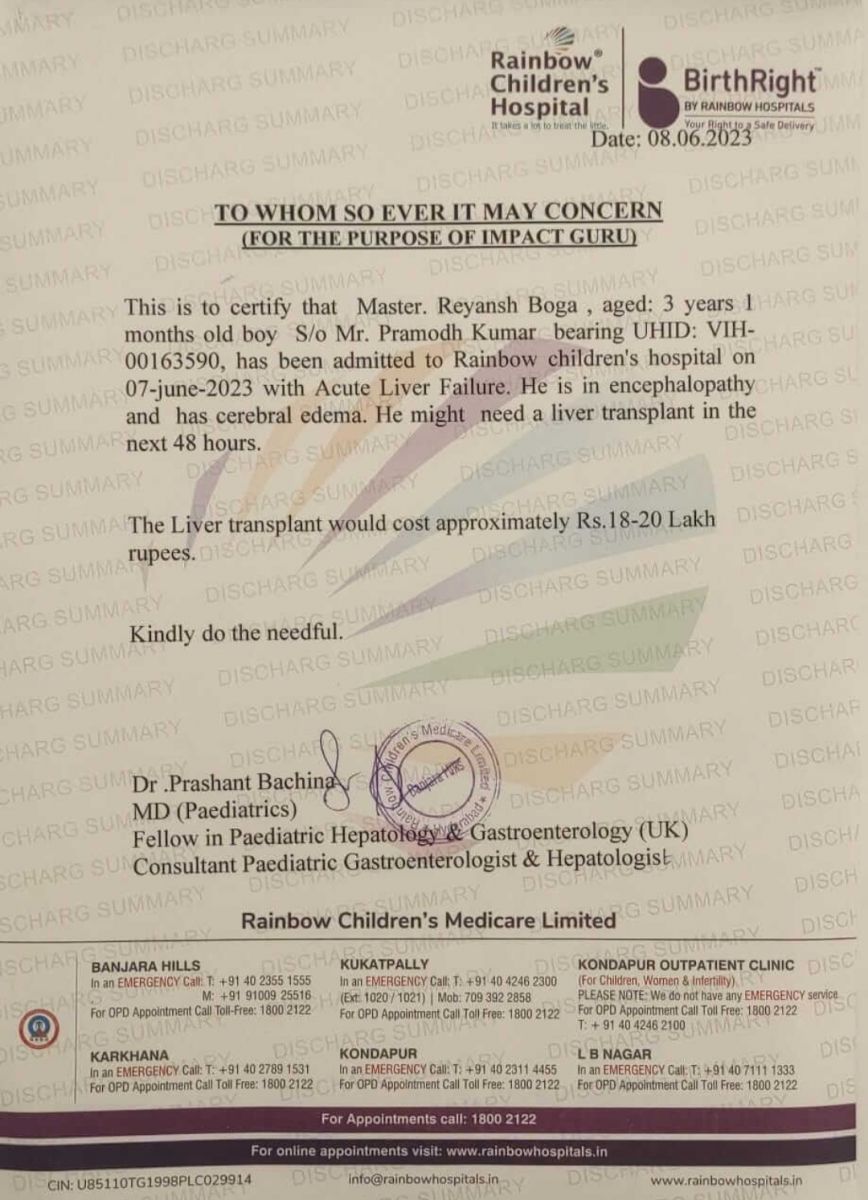 My husband and I have already spent everything we had in the last few days. His treatment is so expensive that it takes us lakhs every day just to keep him alive! We have already borrowed from our friends and relatives. We are now unable to afford the cost of his transplant.
I keep thinking about what has happened to my family. It feels like it has been ages since any of us smiled. Our eyes await a day when this ordeal will end and we see our Reyansh healthy again. I yearn to take him back home. I yearn to see him grow up in front of me. I want to give him a happy childhood. What else does a mother want? But this dream is being taken away from me.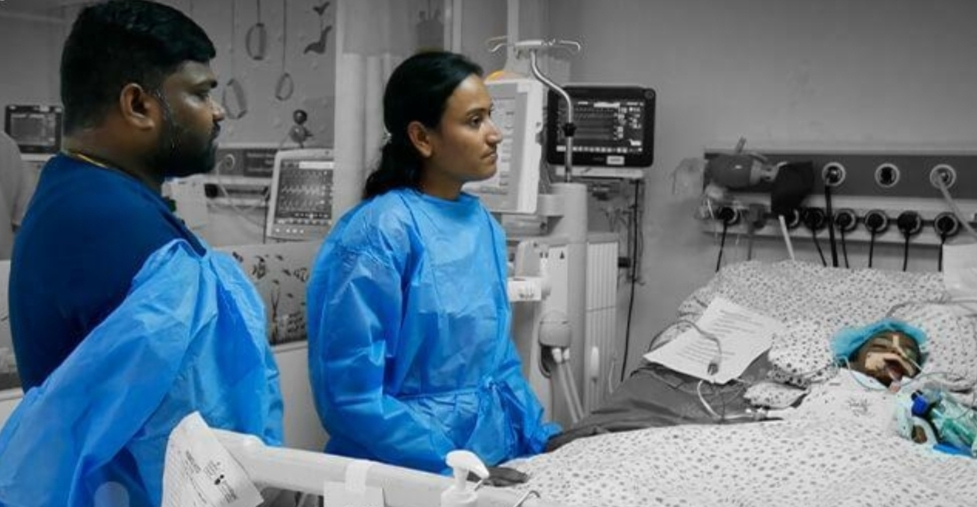 Only your support can now fulfill this dream and bring my child back to me. Please consider donating to this fundraiser campaign to give my child a chance to survive and recover. Any contribution from you will be a prayer for my Reyansh. Please don't ignore my small request! He is my only child and your support is our only hope!
Please consider sharing my son's story on WhatsApp, Facebook and Instagram to make sure that it reaches more kind people like you.
???????
The goal amount of the campaign may be higher than the attached estimates to address and aid the post-hospitalization expenses/contingencies including but not limited to prolonged medication, diagnostics, rehabilitation therapies, and follow-up doctor visits/consultations which vary from disease to disease.
Liver Failure Is Threatening To Take My Little Son Reyansh Away
₹ 983,719
raised of ₹ 2,000,000 goal
49%
Your donations are protected by Jiyenge Guarantee.
For International Transaction
Every social media share can bring ₹5,000
DONATE VIA UPI, CARDS OR NET BANKING:
---
---
rpy.jiyengeratp1yfo79176@icici
Scan the QR code from the app and make payment
---
Liver Failure Is Threatening To Take My Little Son Reyansh Away