wb_twilightThis verified Fundraiser is in Urgent need of Funds.
Jiyenge Charges 0% Fees to All the Causes, and it's Free for All.
Sr
Created by
Srinivas verma
Verified
Phone verified
Email verified
Identity Verified
---
About the Fundraiser
Hai friends myself srinivas varma from kakinada. My best friend Dindi Durga prasad, age 28 on 3-12-2021 friday he was coming from pulla to eluru on the way a car hit him from back side and ran away. He fell down unconscious with severe head injury.
We got information from National highway police and we took him to hospital at Arun neuro hospital vijayawada. Doctor said in his head left and right brain cells all got damaged and ribs got fractured.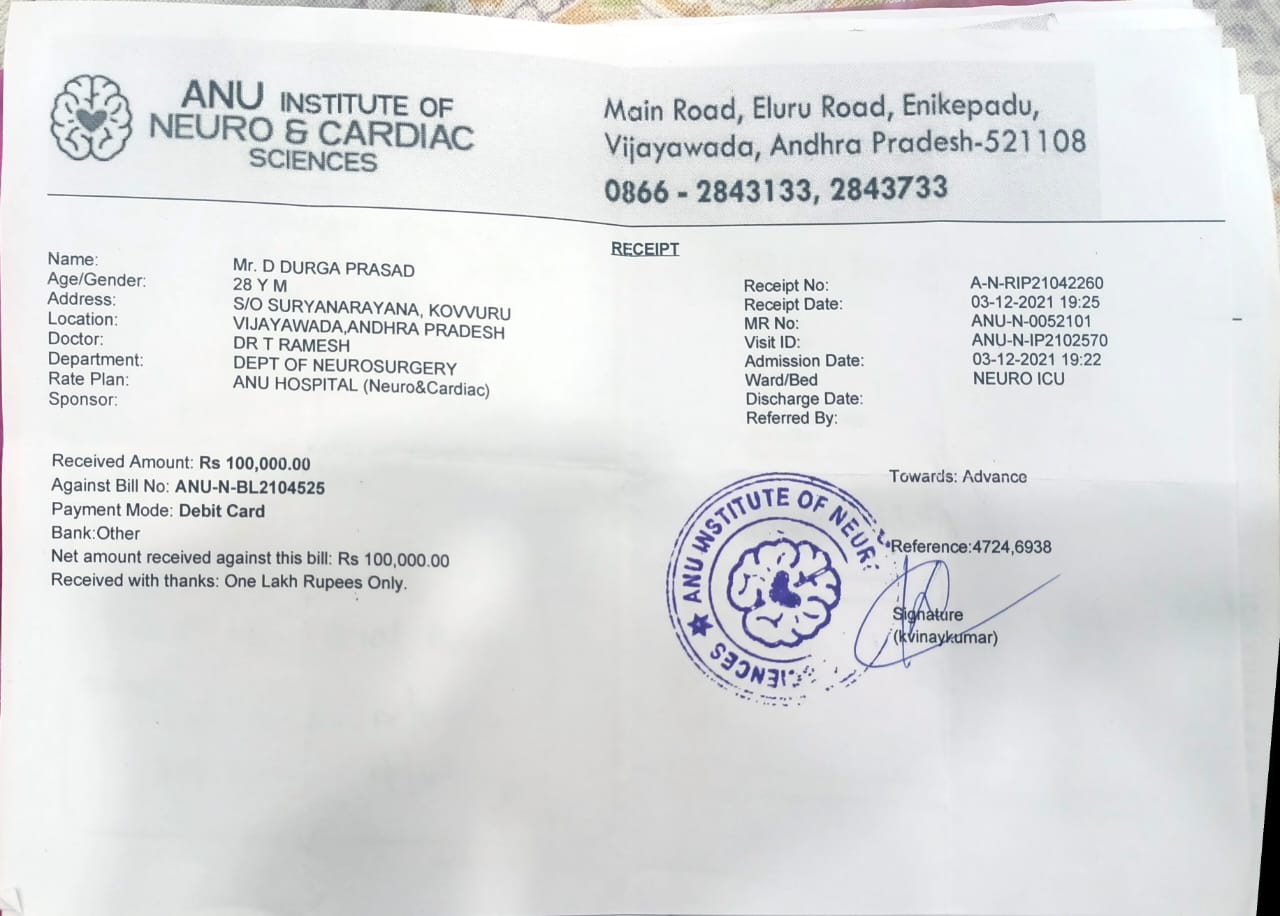 Opertion had done but still he is in comma and under critical condition. Doctor said there is only 25% chance of survival . we need about 15 lakhs for the further treatment . Please friends a small contribution from every one can save my friends life So please friends help me. My mobile number 9010209977.
Doctor name:- Theegal Ramesh garu.
Thanks in advance.
My Friend Met With An Accident
₹ 0
raised of ₹ 100,000 goal
0%
Your donations are protected by Jiyenge Guarantee.
For International Transaction
Every social media share can bring ₹5,000
DONATE VIA UPI, CARDS OR NET BANKING:
---
---
rpy.jiyengeratp1yfo79155@icici
Scan the QR code from the app and make payment
---
My Friend Met With An Accident