wb_twilightThis verified Fundraiser is in Urgent need of Funds.
Jiyenge Charges 0% Fees to All the Causes, and it's Free for All.
Ve
Created by
Venkaiah & Lakshmi
Verified
Phone verified
Email verified
Identity Verified
---
About the Fundraiser
My son struggles to breathe. His lungs are failing. He chokes every time he tries to drink milk. My 11-month-old son Rishi's fatal condition is unbearable to watch now. His muscles are getting weaker and shrinking with each passing day. My little baby has difficulty moving his head too. The tortures of one of the world's rare disorder are hunting my sweet son. And I, as an unfortunate father, can do nothing about it.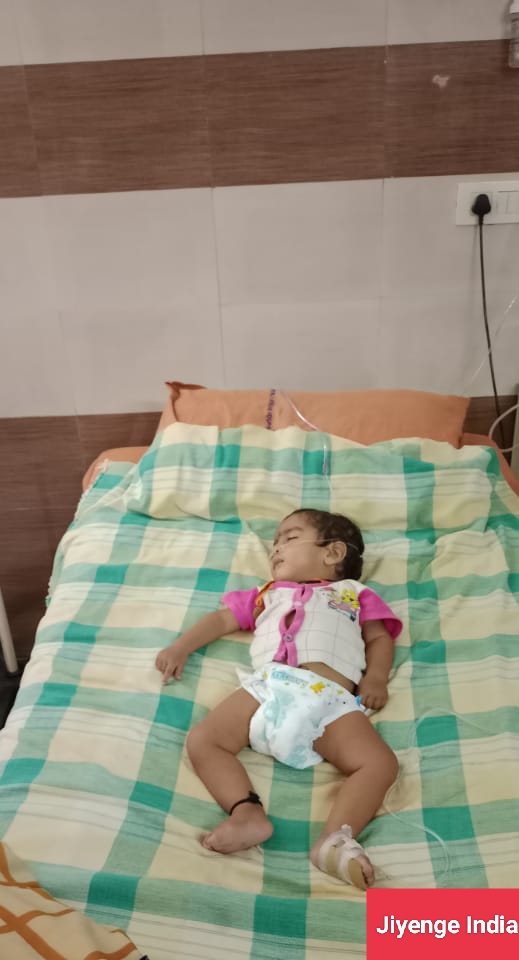 I still remember when I held my baby for the first time. His tiny fingers and twinkling eyes made me the happiest. But little did I know that my son's life will take an unfateful turn.
I have already been through the pain of losing a son. My wife and I are still grieving for him. We weren't out of that trauma and another heartbreaking news followed. The doctors at Lifeline Hospitals, told us that our baby Rishi is a victim of Spinal Muscular Atrophy (SMA-Type I). A shiver ran through me. My wife and I were completely shattered when we learned about the fatalness of SMA. Without the costly treatment, there is hardly any chance of survival.
I don't remember when I last saw my little Rishi giggle. He remains in distress all the time. Even crying in his agony has become very difficult for him. He faces shortness of breath everytime he cries. As he is growing, his difficulties are getting doubled. The doctors have said that my Rishi's organs will fail completely and his life will end too.
???????
The only way my son can combat his suffering is through a miraculous drug called Zolgensma. But the cost of this live-saver medicine is beyond our imagination. We need Rs 16 Crores to avail zolgensma for Rishi's treatment.
I have sold my land and gave up every piece of my savings to ensure that my son breathes. I have to rush him to the ICU every time his health is critical. Now it is very difficult to manage his treatment. I don't know how long my son will survive. But if something goes wrong, I won't be able to bear the pain this time. Please don't let me fail as a father once again. I want my son to live. He deserves a chance at a life that is hopeful and without suffering. Please help me with your kind donations and gift my Rishi a safe life.
Save My Baby Rishi From SMA
₹ 105,981
raised of ₹ 160,000,000 goal
0%
Your donations are protected by Jiyenge Guarantee.
For International Transaction
Every social media share can bring ₹5,000
DONATE VIA UPI, CARDS OR NET BANKING:
---
---
rpy.jiyengeratp1yfo79172@icici
Scan the QR code from the app and make payment
---
Save My Baby Rishi From SMA